Military Dump Trucks for sale. Fully Reconditioned 5 Ton 6x6 Military Dump Trucks and M917 20 Ton Military Dump Trucks. M817, M929, and M929A2 Dump Trucks and Military Vehicles for sale.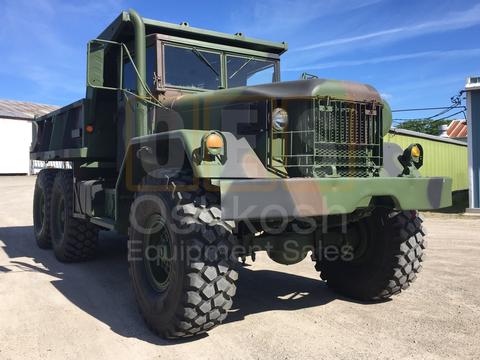 Fully Reconditioned M817 Military Dump Truck with Hard Top, Cab Heater and 16.00R20 Michelin XZL Super Single Tires.
The M817 dump truck is used to transport materials such as sand, gravel, and stone. It may also haul scrap, rubble, or other waste materials. These vehicles operate on or off the road with load limits up to 10,000 pounds Off Road and 20,000 pounds highway.
This vehicle has a welded-steel dump body. The forward end of the solid dump body extends up and over the vehicle cab to protect it from damage during loading.
This truck has a tailgate that can be opened at either the top or bottom, allowing
operation as a regular (end load) type, rocker type, or as a spreader type dump truck.
$27,500.00
2320-00-050-8970
Sold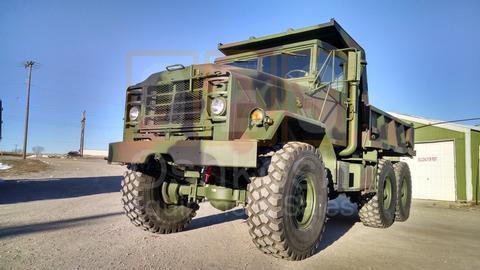 MORE COMING SOON ... CALL CASEY FOR DETAILS ... Fully Reconditioned M929 6x6 Military Dump Truck with only 12,900 miles, manufactured by AM General with a Cummins NHC-250 Diesel Engine and a 5-Speed Allison Automatic Transmission. This vehicle features a Cab Hard Top and Anti-Lock Brakes. The tires have been upgraded to 16.00R20 Michelin XZL Super Singles to give this truck excellent off-road performance.
Contact for Price and Availability
2320-01-047-8756
Check out our reconditioning process for 6x6 Military Dump Trucks!
Quality is Job One!!
Oshkosh Equipment Sales goes the extra mile to make your vehicle stand out from the rest. Many parts and components of your vehicle are replaced or re-built regardless of condition. We know you want your equipment to work for you trouble free for a long time, and we take steps to help guarantee that it does.

You will find we excel in the market with very high standards and un-matched quality, service and support. Our experienced crew is here to work for you.....

Each vehicle gets the following new parts regardless of condition along with numerous other parts that do not pass inspection:

*Brakes
Hydraulic Systems
-Master Cylinder
-Wheel Cylinders
-Flex Lines
Air Systems
-Relay Valves
-Quick Release Valves
-Air Brake Diaphragms
-Tractor Protection Valve (When Applicable)
-Flexible Air Brake Hoses

*Hub Seals
*Axle Seals
*Fan Belts
*Coolant Hoses
*Fuel Hoses
*All Filters
*All Fluids for Engine and Drive Train

Each vehicle has the radiator removed and is flushed and cleaned along with the cooling system. All drive train gear boxes and axles are drained, inspected and re-filled with new fluids. Any weeping or leaking seals are replaced if there is any sign of leakage in the past. When applicable, the tires on the vehicles are upgraded to the Single Configuration improving top speed, traction and floatation. This wheel configuration also eliminates packing of mud or clay between the dual wheels on the rear.

The rest of the vehicle is checked and inspected to insure all gauges, instruments, controls and lighting are all fully operational. A full road test is then done to ensure the vehicle is up to OES standards. The vehicle is then sanded and painted inside, outside and underneath to protect from the elements these vehicles encounter throughout their lifetime.

We know you have other choices in the market and work hard to make VALUE our number one concern so you can go to work with your vehicle instead of working on your vehicle.

Please feel free to contact us with any questions or concerns. We look forward to working for you and I am confident you will find the value in our products.

Thank You,
Randy Passow

Manager

Oshkosh Equipment Sales, LLC
3664 Nekimi Ave
Oshkosh, WI 54902

920-231-1188

www.OshkoshEquipment.com